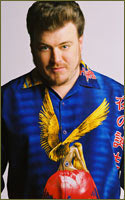 Ricky
Ricky - Robb Wells is from Moncton, New Brunswick where his dad worked as a civilian officer in charge of the RCMP Forensic Crime Lab. Robb moved to Dartmouth (Cole Harbour) when he was eight years old, and eventually moved to a house on the same street as John Paul Tremblay. While John Paul was out riding around on his dirt bike, Robb was out playing on the soccer fields. By the time he was in high school, Robb was playing with some of Nova Scotia's best soccer players. They represented Nova Scotia at the Canadian National Championships, and won gold for Canada at the International Tournament in New Jersey. Robb developed his artistic side at an early age with the help of his grade 9 and 10 English teachers. In high school, Robb started hanging around with John Paul Tremblay and Mike Clattenburg and the three of them collaborated on their first short film, One Last Shot. The following year the three worked together again on their first feature, Trailer Park Boys. Neither Robb nor John Paul has appeared in a film without the other. Shared film credits include U.S. feature Virginia's Run. Since the last season of Trailer Park Boys, Robb has had little down time. He starred as Joe in the U.S. feature film Hole-In-One, and appeared as a featured guest of the band Our Lady Peace on their cross-Canada Fear of The Trailer Park tour. Robb also joined John Paul and Mike Smith as guest stars in the video "The Darkest One" by The Tragically Hip and is also collaborating with John Paul on at least of couple of feature film screenplays.
---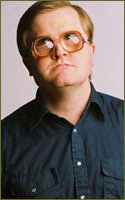 Bubbles
Bubbles - Mike Smith was born and raised in Thorburn, Nova Scotia. He started playing hockey at the age of four but showed early signs of musical genius when he learned to play guitar at the age of seven. He continued on with both hobbies, but eventually gave up hockey to concentrate on being a musician. He attended St. Francis Xavier University in Antigonish, Nova Scotia where he earned a degree in English. In 1992, Mike's career in music began to take off. He played guitar and was one of the principal songwriters in the band Sandbox and signed a record deal with EMI in Canada and Nettwerk in the states. Nominated for a Juno Award, East Coast Music Awards and a Casby Award, Sandbox released two albums with EMI and Nettwerk - "Bionic" and "A Murder In The Glee Club". In 1999 Mike started composing music for film and television and has worked as a sound mixer on such feature films as The Weight of Water starring Sean Penn and Elizabeth Hurley, and Serendipity starring John Cusack and Kate Beckinsale. While sound mixing on the Trailer Park Boys feature, Mike met Robb Wells and John Paul Tremblay. Goofing around one day on set, Mike was imitating a character he had been doing for years. Mike Clattenburg decided to write the character into the series and thus the birth of the loveable character Bubbles. Mike worked on the US cable pilot called Espia as writer and musical director and appeared as Bubbles in the music video Legal by Canadian rapper Snow. He also appeared with Robb Wells and John Paul Tremblay in The Tragically Hip's music video, "The Darkest One" featuring Don Cherry. Just before that, Mike joined Robb and John Paul on a cross-Canada tour with the musical group, Our Lady Peace. As a testament to the fact that Bubbles has endeared himself to audiences across Canada, Mike won a Gemini in 2003. It was the Viewer's Choice Award for Favourite Comedian.
---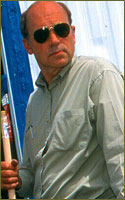 Mr. Lahey
Jim Lahey - John Dunsworth was born in Bridgewater, Nova Scotia, not far from the sea where he now spends most of his time on his yacht when he's not working. John is one of Halifax's most venerable and revered actors. He has appeared in countless CBC radio dramas and has held leading roles in over 25 Neptune Theatre productions. In 1970, long before the days of waterfront renewal, John convinced the city of Halifax to lease to him a run-down old building by the shipyards which he turned into Pier One Theatre, Halifax's first and arguably its most successful alternative theatre company. John first met Mike Clattenburg in the mid-nineties when he auditioned for a small role in Mike's short film, One Last Shot. Halfway through shooting, John's small role blossomed into a leading part—a part that garnered him a Best Performance award from the Atlantic Film Festival. From there, John developed that role into the character Jim Lahey, the trailer park supervisor on the series Trailer Park Boys. John's recent film credits include principle roles in Sleepmurder for CTV, Blessing for CBS, Shattered City: Halifax Explosion for Salter Street Films and Thom Fitzgerald's Indie film Three Needles. John is an avid bridge player, holding master points. He also holds, until somebody proves otherwise, the Internet Scrabble record for having three 7-letter words in a row. Around town, John is easy to spot. He drives an old truck with a thousand pound winch that he uses for hauling granite. In 1987, John founded Filmworks Casting where he worked as Halifax's most successful casting director. Prior to that, John worked as a cab driver for three years and worked the CNR trains from Halifax and Sydney.
---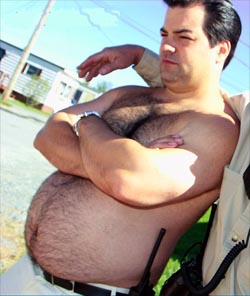 Randy
Randy - Patrick Roach was born in Halifax but now makes his home in Lawrencetown, Nova Scotia. Aside from some sketch comedy he performed with Robb Wells and John Paul, Patrick had never acted before he took a role in Mike Clattenburg's feature Trailer Park Boys. He did so well that Clattenburg cast him as Randy, the Assistant Trailer Park Supervisor in the series. Besides playing Randy, Patrick holds down a full-time job as regional sales manager for Sparkling Springs, a bottled water company. He takes vacation days during the summer to act in the series. Patrick first met John Paul in the summer of 1984 when John Paul agreed to drive Patrick and another friend to PEI to attend Mike Clattenburg's and Robb Wells' high school graduation party. John Paul, who had never met Patrick before this, thought Patrick and his buddy were a couple of "nerds". To Patrick, John Paul was the cool guy with the cool car. By the time they reached Cavendish Patrick and John Paul became good buds. In fact, they became business partners. Patrick, Robb Wells and John Paul opened J.R. Capone's in PEI. Eventually Patrick and Robb sold their interests in the business to John Paul, who expanded the chain to three restaurants. Like Robb Wells, Patrick holds a degree in business from Saint Mary's University in Halifax. Patrick is married to his wife Candyce and together they have two children.
---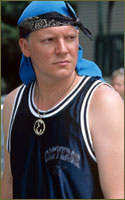 J-roc
J-Roc - Jonathan Torrens has worked as a performer, writer and producer for 15 years. In 1989, he started a seven year run as one of the hosts of Street Cents, an award-winning consumer/sketch show for teenagers. It was there that he and Mike Clattenburg became friends and the character of J-Roc was first conceived. For five years he hosted the CBC Television show Jonovision, for which his sketch and character work earned him seven Gemini Award nominations, including Best Individual Performance in a Comedy Series and Best Comedy Series. Jonathan Cross's Canada, his parody of a Charles Kuralt style newsmagazine show, aired on CBC in 2003. As an actor, Jonathan has guest starred twice each on the popular Canadian topical comedies This Hour Has 22 Minutes and Royal Canadian Air Farce, along with recurring roles in the period drama Pit Pony and the sitcom Rideau Hall. This year he's had guest starring roles on Degrassi: The Next Generation and the sketch comedy Listen Missy. As a host, Jonathan's credits are as varied as Living Romance, Canada Day, The CBC News Millenium Special, The East Coast Music Awards and Sesame Park. In film, he won the Best Supporting Actor award at the 1999 Atlantic Film Festival for his feature debut in Thom Fitzgerald's Beefcake. His first romantic comedy, The Breadmaker, premiered at the prestigious Toronto International Film Festival in 2003. Jonathan's long list of accomplishments extends beyond television. He has produced and co-written two award-winning shorts, also with Mike Clattenburg: Liquor Store, which won Best Short and Best Director at the Atlantic Film Festival in 1996, and Nan's Taxi, which won the Gemini Award for Best Short Drama in 1997.
---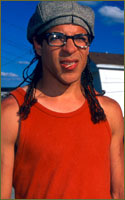 Cory
Cory - Cory Bowles is an actor and dancer. He began his dance training in his bedroom in Truro through old movies and library videos. In high school, he formed the band Hip Club Groove with whom he toured for Universal Records, and appeared in several music videos. He spent 4 summers at the Nosco Academy of Theatre Arts as a movement and improvisation instructor before forming a touring theatre company in 1997. In 1999 he auditioned for Decidedly Jazz Danceworks in Calgary and became a scholarship student, which led him to touring with the company and teaching at the school. Cory found his home in roots jazz and dance of the African diaspora and continues to study its traditions and advancements, travelling to the Caribbean and Brazil to study afro-roots. Cory has choreographed for theatre, film, television and music videos and has appeared in a show about the roots of hip hop which he co-created. He is currently teaching and choreographing for the Maritime Dance Performance Group, Halifax Dance, Jazz Bliss, and continues to choreograph for his dance company Verve Mwendo. Besides dancing, he now divides his time teaching, acting in the television series Trailer Park Boys, providing the voice for the animated series Poko, and playing in his band Dream Brother.
---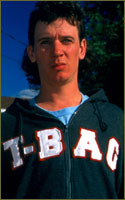 Trevor
Mike Jackson as "Trevor" Mike doesn't believe in bios.
---
Which 'Trailer Park Boys' Character Are You Most Like?
http://quizilla.com/users/BubblesFan/quizzes/Which%20'Trailer%20Park%20Boys'%20Character%20Are%20You%20Most%20Like?
---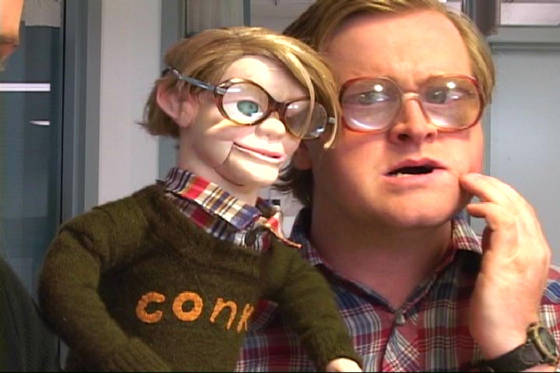 Conky with Bubbles
---

http://www.sprynewmedia.com/trailer-park-boys/trailer-park-video-game.htm